Every magazine or book I read makes me think in new ways about the foods that I eat. One day Mark at the Daily Apple is telling me I don't need grains and the next I'm reading Nancy Clarks sports nutrition and I better be eating grains. I think at the end of the day it's about what works best for my body…but I LOVE LEARNING ABOUT YOU ALL!! You give me such great ideas and feeback so here are the questions:
My carb intake seems high when I actually track it and compare to what I see all these sites telling me…but I don't know how I could truly run on lower. Now could my quality always be better, yes the cookies could go away.
Do you ever think about carbs, protein, fat balance in your eating?
I love this concept of 3 meals at 500 and 2 snacks at 200 cal, but that's not how my life goes. Honestly by 10 AM I have consumed 1,000 cals…by 5PM another 600 and the final 400-600 in the evening.How do you spread your calories out throughout the day?
Now I leave you with a picture of the Red Head and I pre hill workout…I so wish we lived closer because she is a BALL OF ENERGY and too sweet!!
And yes I do look like a giant next to her!
—————————–
Gratitude Journal
Feb 19
I am grateful for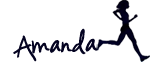 new running buddies
I am grateful for shared running plans
I am grateful for new running workouts
I am grateful for others enthusiasm about running
I am grateful for other healthy eaters