Our daily lives are filled with news of a bad economy, murders, earth quakes and the list goes on. I think this often leads us to complain about little things in daily life rather than focusing on all the good things that are happening.
So today the question is what GOOD news can you share? Have you seen a random act of kindness? Had something wonderful happen to you?
Last Saturday we went to a music benefit for Haiti...for a small $10 donation I danced around with a number of JOYFUL spirited people to regae and well other music I can't describe in the name of supporting others.
And today I received
my first ever bloggie package from the sweetest
Danica
!!!
I have talked about her before, but golly I think I love her for all these TJ's goodies. I complain frequently about FL not having TJ's and so she sent me some things to try!! Look out for reviews.
-----------------------
Gratitude Journal
Jan 29
I am grateful for uplifting stories
I am grateful for funny tweets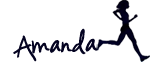 I am grateful for The Ellen Show
I am grateful for Runners World magazine
I am grateful for new clients