Did you know it's my birthday? I knew...so really you should have known...plus I've mentioned it like 100 times because I love it so much. I'm pretty sure my mom knew cause this crazy lady left me a singing voicemail this morning, she's awesome.
I know a lot of folks stress about getting older, but seriously every year has been amazing and I feel like a better person with greater experiences every year so I LOVE it. Plus the older you get the tougher you get mentally for running, I swear it's true. You've seen the 80 year olds that pass you at races!
In honor of my birthday I am doing things totally bacwards and giving you stuff... WHAT?! But first make sure you
vote for me to win this photo shoot
as that is a free and easy birthday gift.See what you can win here >>
----------------
Gratitude Journal
Aug 13
I am grateful finally got my hair done last night...been waiting 3 weeks
I am grateful I did not work until 5AM again last night
I am grateful for mailed birthday cards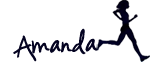 I am grateful for what I am sure will be an easy time at the DMV today
I am grateful for my BIRTHDAY
ALSO if you don't get exercise TV at home it has some great workouts, which you can also get on a
cool widget
.