I kinda felt like calling this post...Fat?? Cause seriously that is how I am feeling folks. A little TMI for you but just last month I switched birth control and I'm actually wondering if that is the cause... I mean I have weighed the same for over 2 years (yeah yeah I know I keep talking about six pack abs, but this weight is so easy) and all of a sudden I'm up 5lbs.
Sounds like a cop out though, so I don't want to blame that...we'll see I suppose. I mean I have been truly happy with my body for well a very long time, so what a tool am I for letting a few numbers on the scale start to derail me.
So you know what helps...7 miles pain free and LOVIN IT....plus more FOOD!!
Today I received a great package of Dave's Killer bread...an actual review to come later, but mmm bread with Omega 3's...wahoo.
Then there was
my package from
Lil Runners
bake sale
...so sorry to those of you who didn't shell out a little for charity because MMMM baby I am enjoying some amazing homemade energy bars. I know sometimes it's hard to find extra cash, but I think for charity and for goodies baked from the heart...totally worth every penny.
THEN I received this amazing
package from
Danica's Daily
to say thank you for posting her food link. I have NEVER had Annie's so you can imagine my excitement as I ripped directly into that cute bag of little bunnies, calories be damned.
Here I am hoarding my goodies...as though David would ever dare break in to my cupboard, he's slightly afraid of it.
Ok will tonight is another late one and tomorrow too...so my brain is mush and hence the complete lack of content in this post.
I only slept about 2 hours last night between working and then worrying about work.
BIG NEWS! Just got the story that was posted on the so called wedding planner. Please pass it on as we are trying to get traction so it goes national and helps more brides. Here is the online story... sure wish I could have seen the TV footage.

-------------------------
Gratitude Journal
July 29
I am grateful...to still be awake and functional
I am grateful for a comforting run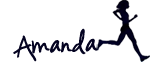 I am grateful for spell check in my work emails
I am grateful that my engineers have to think way harder than me tonight I am grateful for beautiful weather in July