McDavid Small Compression Shorts: Swirly Cinnacakes of
Catching Bananas
Balega Small Socks:
Danica's Daily
Balega Medium Socks : Ellen
Send me your addresses ladies - amandacbrooks at yahoo
WEEKEND
Long run of 6 miles!!!
I seriously cried when I got done I was so happy...a little in pain, but friggin happy to be running.
Decorated for a BBQ...I got out lei's and umbrellas and just had a good ol' time getting food ready all day. I realized we have gone out a lot with friends, but haven't had them over for awhile so it was just a blast.
Followed by a new dessert I made using some...silken tofu which you may just have a chance to win tomorrow. Oddly it was pretty, but not the best thing I have made.
Yard games...who doesn't love ladder ball and a little corn hole
More kitty love .. I spend most of my time this way as he loves to cuddle with my face and neck. We have offically named him Kingston (as in Jamaica), however I was also informed...thank you Anna... this is the name of Gwen Steffani's baby.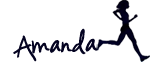 Holey Donuts giveaway
..oh yeah get your sweetness on and if you are feeling like a good person today.. who isn't on a Monday, checkout the great
Bake Sale
going on for charity. But don't bid on what I want ok?!