OK I AM POSTING THIS EARLY because you guys are all so darn nice, acting my 6 miles was something special…seriously I miss my 14 miler days. Also don't forget to checkout LIL Runners Bake Sale for charity!!

Tofu and I have this weird relationship where I walk by…then go back and pick it up…put it down…and repeat cycle! I just really couldn't imagine that I would know what to do with it. However as I have ventured in to cooking, I'm realizing I can do much more than I thought. So when Nasoya came out with these new Silken Creations…it was game time.
In an effort of full disclosure, I have to admit we got off to a rocky start, as they sent me some expired tofu…not once but twice. BUT then I tried the

VANILLA
Ok first up is the vanilla…probably my fav which is no suprise I love vanilla ice cream! You may have noticed this in a lot of my Green Monster twist recipes. It worked like a charm since I never have any milk on hand.

But I also used it to make chocolate chip cookies! They have a ton of recipes on their site, but I started with a version that made a very soft cookie…David ate 3 of them and had no clue they contained tofu…SCORE!

CHOCOLATE
Also seen in my green monsters was the chocolate silken creation…perfect for a dessert smoothie. However, I also decided to spoon some up with a Gluten Free Life Chocolate chip muffin (what is that another giveaway item??) and seriously that may be one of the best desserts I've made at home in a long time!! Is this why my weight is creeping up?
Now they also have this picture of BEAUTIFUL pie on their site, so I thought ok let's give it a go. I made the pie as you saw for our BBQ Saturday and it was pretty good…but their's looks SO MUCH BETTER! So I didn't do something right, but hey you live and learn.
STRAWBERRY
Ohhh strawberries, they make me happy. Once again…yes I've used it in Green Monsters and friends it is soo good. But I had to be more creative than that so it was time for POPSICLES! I haven't made these in eons, so I busted out the frozen blueberries/strawberries and blended everything together then filled the holder….YEAH!!
It was just like I made those Whole Fruit pops, but for way less money and less sugar and well YEAH!!

I know a number of you are cutting out soy for the Whole Life Challenge and I think that's a worthy cause…if you were way overdoing it. I on the other hand believe everything in moderation. I mean if I am eating cookies, surely soy is no worse for me than that.
GIVEAWAY!!!! For your chance to win go here>>
———————————
Gratitude Journal
July 20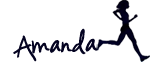 I am grateful for running
I am grateful for stretching
I am grateful for sore muscles
I am grateful for new weight lifting ideas
I am grateful for long thoughtful walks