HMMMM
I haven't really wanted to write lately because I thought I might vent some things that I shouldn't. I'm glad now that I didn't because it would have only perpetuated the issue. An interesting thing struck me as I was talking to David this weekend, I LOVE TO LEARN. Truly it's why I enjoy a challenging job, it's why I keep finding reasons to make this injury ok, it's why I do random things like acupuncture or raw food or the whole host of random things I drag D into frequently.
I want a lot out of life...and I think there isn't a darn thing wrong with that...I just have to learn a few more things to make the journey a little smoother. Anyhow this is to say that once again I've learned from what started out as a rough weekend and I'm awfully lucky to have each of you to inspire me in so many ways to continue growing as a person....a person who can now ride a bike for a whole 25 minutes.
RACES

It's official David wants to do a Half Marathon.
He is officially training and to say I'm
horribly jealous is an understatement...but proud well that meter has gone off the charts!! I can now run
1 mile in the morning and 1 mile at night, but no more.
So we will both be signing up for the
Des Moines 1/2 marathon
in October and then for KimPossible's birthday I am officially headed to
Vegas Rock N Roll
. I believe by December I won't be rushing the healing process and I will really enjoy another full marathon...so let's finish 2009 with bang!! I know a number of you are considering it...Bobbi??
UNCOOKED ADVENTURES
Remember the $12 food bill last week...well I'm still eating it and heading out of town for work, so no groceries this week!! I am having so much fun with new recipes lately!!
I made this huge salad with spinach, avocado, salsa and broccoli...David was salivating over it!!
Yesterday I was ready to be creative...
Zucchini noodles: Made just using my very awesome vegetable peeler
Sauce: 1/2 avocado, tomatoes, water, oregano, parsely, onion,
Foods Alive
Hemp Oil
Cauliflower Soup: Ok I had this huge head of cauliflower and couldn't figure out what to do with it, so I found a recipe and wasn't sure how it would turn out I mean uncooked?!! I also didn't have the exact ingredients so I did my own version: 1/3 head cauliflower, 2 celery stalks, almonds, 1/2 avocado, garlic, onion,
Newmans Organic
Extra Virgin olive oil,
Foods Alive
High Ligan, sea salt, pepper.....
I tried it without the nuts and yuck, added the nuts and it was better.
I was amazed at how creamy it is since nothing was baked!!
It's ok, but not fantastic. So serving it up with some garlic flax crackers helped and I'll be finding things to add to it each time I eat it. Like tomorrow I plan on trying it with this new Multi Grain Rice from
Annie Chun's
!
I now have Ani Phyo's raw food recipes book from the library, so when I get done travelin this week I hope to think of some new goodies!
-------------------------------------
Gratitude Journal
June 21
I am grateful for a fantastic dad
I am grateful for a great father's day together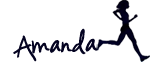 I am grateful for all the dad's who take time for their kids
I am grateful for what my grandfather taught my dad and me
I am grateful for the man David's father raised him to be