Book Reviews: June is being continued!!
A book was provided to me that falls in to two of the categories that I always review: Spirit and Running.

Seriously...two of my favorite things being addressed in one book? All right, you've got my attention, but can you keep it? Don't let the fact that I often multi-task by doing leg lifts while reading books about running fool you, I really am paying attention.
Fit Soul. Fit Body by Brant Secunda and Mark Allen have written a book that strives to teach you how to connect your workouts with your inner spirit. The idea is that if you don't have both a strong body and a strong spirit, you'll always feel like something is missing and you won't be able to perform as well in either aspect of your life.
"
Imagine having a connection between your physical body and that inner, intangible part of you called the "soul" that is so powerful that you can do just about anything. Accomplish more at work. Lose unwanted weight. Gain vibrant health and more energy. Sleep like a baby at night. Have more satisfying relationships. Experience greater fulfillment in all that you do. Get into the best shape of your life. That is exactly what this book is going to help you to achieve, that and so much more. Sounds like a tall order, but not when you learn the elements to the Fit Soul, Fit Body way of life."
The book goes through how to handle stress, how to connect to your innerself to further your athletic endevors, how to train smarter and eat better. This isn't your standard running plan or diet plan. While there are specifics, the overall picture is focused on connecting to your spirit.
Clearly I am not the writer!! This page on their site does a great job of talking about the
9 keys to happiness.
So far I've enjoyed taking the practice of feeling connected to mother earth while running and really soaking in the energy of the sun out on my runs and it feels nice. I think the ideas are great and hey if it makes my whole life better...I'm on board!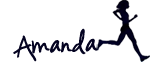 Has anyone else read this yet? What do you think about using your connection to spirit and the world around you to perform better?