As previously mentioned I love to learn and I love to be HEALTHY!! So I am doing and trying everything I can to get this IT Band back in working order.
First,
no the needles don't hurt
...as in they are not like getting a shot.
Second, it can be a relaxing experience
but if you are going to heal a pain..well umm it's kinda PAINFUL
. They find the sore muscle and poke it...then if you are super lucky like me they hook you up to a machine and it pulses so you can actually see your muscles jumping...WEIRD. And of course well painful because my IT band was so tight and I have bursitis in my knee.
I was also suprised to see a day later that the location of the needles was very apparent on my sore hip. Yes, I am indeed going on a limb here and giving you a shot very near my sweet lady rump...not lumps.
Unfortunately this wasn't the instant panacea I hoped for, but I thought it was very interesting and the medicine man as we shall call my 6'0' chinese doctor had some great points:
1. Streets are slopped. If you run the same direction all the time you are forcing one leg to always be longer, change direction.
2. Use heat, not ice. Ice may create an initial good feeling, but if you have a tight IT band you need to be using heat. THis is not to say ice doesn't have it's place, but not for sore muscles.
3. Release the muscle. The electro-acupuncture is designed to release the muscle meaning it's tight and binded so you need to force it to let go...usually 1-3 sessions is supposed to help but I'm not sure yet if I can go back...it hurt.
OTHER TREATMENTS
CHIRO: Prior to seeing the medicine man I had been to a chiro/deep tissue guy and found that to be the most helpful so far. He released a strain in my back which made my hip feel better...but the bursitis in my knee is persistant and I'm only able to run 2 miles right now. I know many folks love their chiro and I have to say I am now convinced that when combined with the deep tissue work it is a very usful tool

PT: I am also still doing PT work, but I think my muscles are pretty strong now. I believe the exercises which I posted previously are very usful to all runners though as I know it improved form, balance and running.

Active Releast Therapy: I have used ART wayyy in the past, but not tried it again...maybe that's another thought. For those who don't know ART is: "ART is a patented, state of the art soft tissue system/movement based massage technique that treats problems with muscles, tendons, ligaments, fascia and nerves. Headaches, back pain, carpal tunnel syndrome, shin splints, shoulder pain, sciatica, plantar fasciitis, knee problems, and tennis elbow are just a few of the many conditions that can be resolved quickly and permanently with ART. These conditions all have one important thing in common: they are often a result of overused muscles." Runner Leana has used this a lot and found success.

FEEDBACK
What therapies have you tried? Do you believe in alternative medicines?

Any other rehab questions? Any other therapies you need me to be a guinea pig and try out?
---------------------
Gratitude Journal
June 25
I am grateful for huge king sized beds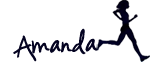 I am grateful for jacuzzi tubs
I am grateful for steak houses with veggie options
I am grateful for super friendly hotel staff
I am grateful for friends who just say hi